Episode 297: Mascara Runs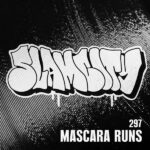 Vinyl record grooves, The Flaccid and the Furious, horny goat weed, White Van Scam, ranch sauce, your wife has been kidnapped, Caesar salad, your AI existence, alcoholic dog now sober, offensive shirt at Walmart, Resident Evil 4 upskirt, 18,000 cows, cocaine hippo hit by SUV, Apple store robbed, Fabrizio, Japanese fight festival, man buys coffee but gets latte, Least Attractive Prefecture
Pre-show
F–k Dungeon
Rebel Wilson Tribute
A Facef–k to Remember
Double X Quantimino
Groove
The Flaccid and the Furious
Horny goat weed
Booba Gettz spotted in the wild in Arthur's Nextdoor feed: 'SCAM: Watch out for the "White Van Speaker Scam" in the area. A guy pumping gas next to me, at Exxon, almost fell for it. The scammer was in a white truck "selling" a home entertainment system.'
Ranch
"Your wife has been kidnapped and is being held in a location 30 mins away. You're driving to rescue her. It's a warm night and your windows are down. Do you listen to music on the drive there yes or no"
Plug In & Hate – What I Had For Lunch: Caesar salad
What if you found out you were an AI bot?
Did Arthur Dream of Electric Podcasts?
This Is The Newz
Alcoholic dog who got addicted to drinks left out by owner now sober
Walmart removes offensive shirt with hidden curse after complaints
Ashley breaks the fourth wall in Resident Evil 4 Remake if you try to upskirt her
18,000 cows killed in explosion, fire at Texas dairy farm may be largest cattle killing ever
Re-enactment Newz: Brian is the newscaster in the helicopter. Gemini is the SUV driver. Burrito is the hippo.
One of Pablo Escobar's 'cocaine hippos' dies after being hit by an SUV in Colombia
Washington Apple store robbed of $500,000 in iPhones after thieves tunnel through coffee shop wall
Fabricio/Fabrizio
Burrito's Nippon Newz
Fights break out at Japanese fight festival
Man arrested for trying to kill a convenience store owner over a cup of coffee
Japanese prefecture replaces Ibaraki as Least Attractive Prefecture in annual ranking
Deepfake Sponsors: Julio Tejas, Booba Gettz The Crazy One, Thicccum Farmz
Added September 23rd, 2023