Episode 299: Rawr is my OwO | Chasing El Dorado | The Heat in the Meat | Stillborns Stay Born | Through Thiccc and Thin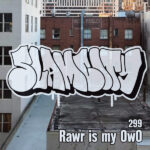 Walnutmilk, Mylk, Mxlk, Rawr, OwO/UwU, 3½-hour long movie or live music performance, Avril, JTT, Utopia, Prions, How much until you have to let your pet go?, Jersey Mike's charity contribution to Boners for Algernon, overthinking, Desiigner, penis for sale, claw machine, cooked bats, stillborn, police bunny, RoboDog, robot waiters, food prank
Double X Quantimino
Walnutmilk, Mylk, Mxlk
Rawr is my OwO
Three and a half hours of a live music performance or movie
Avril, JTT, Utopia
Cool band name? – Hotass Pedxphiles
Prions
How much until you have to let your pet go?
Guesstimation Unknown: Mike's Way®
Boners for Algernon
Overthinking? Ruminating? Breathe.
This Is The Newz
Rapper Desiigner charged for masturbating aboard overseas flight
Man 'tries to sell penis' at Eastern Cape shopping mall
Boy, 13, gets stuck climbing into claw machine for prize
German officials seize cooked bats near Belgian border
Pair charged with throwing away ashes of stillborn infant
Baby Gooch: "I'm stillborn. I stay born. Go shop at Liz Claiborne."
Officer Cottontail? Bunny joins the police force. Fur real.
RoboCop? No, RoboDog: Robotic dog rejoins New York police
Are robot waiters the future? Some restaurants think so
Japan police arrest 2 in food prank at beef bowl diner
Deepfake Sponsors: Julio Tejas, Booba Gettz The Crazy One, Thicccum Farmz
Added October 13th, 2023